Business Parks in the local area

Globe Business Park

Located directly next to the Crowne Plaza Marlow, Globe Business Park has excellent links to the motorway network being just 3 miles from junction 4 of the M40. With 53 companies located here, including Softcat, Whistl and Peter Jones Investments. 1 Minute drive from Crowne Plaza Marlow.

Marlow International Business Park

Marlow International is a striking 230,000 sq ft corporate headquarters building set in its own secure landscaped grounds, generously situated on 12 acres of land. Located right next to the Crowne Plaza Marlow and Globe Business Park. As the huge headquarters is situated just off Parkway, next to the A4155 exit off the A404, they have extensive access to the M40 and M4 motorways. 1 minute drive from Crowne Plaza Marlow.

Quantum

Quantum is a striking office building with inspirational workspace set over four floors. Located near Maidenhead, the state-of-the-art business park is home to a range of multi-national conglomerates such as Kingsmill, Seiko and nearby Johnson & Johnson. Located only 9 miles away from the Crowne Plaza Marlow, a short 15 minute trip should get you there in no time!
Cressex Business Park
The centre comprises multiple industrial/warehouse buildings on a well maintained landscaped site providing a good level of car parking. This business park contains great links to motorways and airports, located just off the M40 at Junction 4. 20 minute drive from the Crowne Plaza Marlow
Grove Park

Grove Business Park is located in the village of White Waltham, 3.5 miles west of Maidenhead town centre. Grove Park benefits from good access via A404(M) linking to both the M4 (J8/9) and M40(J4) motorways, providing easy access to Heathrow Airport, Central London and the national motorway network via the M25. Closest rail station is in Maidenhead which provides a direct service to London Paddington in 19 minutes. 25 minute drive from Crowne Plaza Marlow.

Glory Park

Glory Park itself offers a prime Thames Valley office location with superb connections to the road network and the nearby towns of Marlow, Maidenhead, Slough, High Wycombe and Amersham. The M40, M25, A404 and M4 are all close by – Junction 3 of the M40 is less than one mile away, while Junction 16 of the M25 is within 9.5 miles from the Park. 20 minute drive away from the Crowne Plaza Marlow.

High Wycombe C.C
Located in the centre of High Wycombe, this business park contains a host of business from all trades. Located nearby to key access points such as the M40 junction 4, this park has key access to a lot of motorways and dual carriageways such as the A404, M4 and M25. 20 minute drive away from the Crowne Plaza Marlow.
Kingsmead Business Park

Consisting of five buildings, with approximately 150,000 sq ft of office space, Kingsmead Business Park provides an ideal environment for any business. The park has been transformed recently, with the opening of a new central cafe block, with a large external seating area, a remodelled entrance and landscaping and the refurbishment of an additional 75,000 sq ft of office space following a series of key lettings. 25 minute drive away from the Crowne Plaza Marlow.

Wessex Road Business Park

Located at the end of Wessex Road in Bourne End, this business park is home to a range of business from a host of sectors and industries. Located just 10 minutes from the hotel, the business park is just a small jump to the Crowne Plaza Marlow.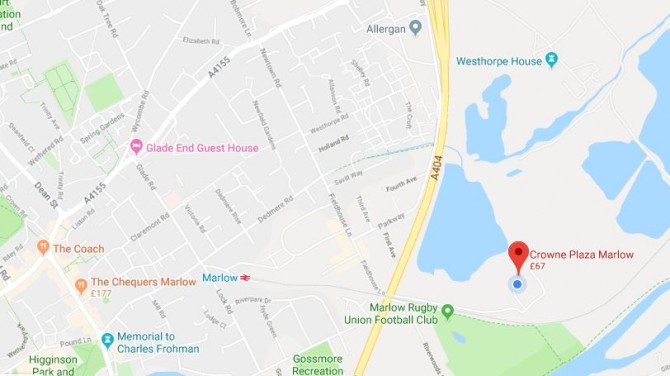 ---